Welcome to NCI Felixstowe Living History
In 1995 the NCI Felixstowe Coastwatch station was a caravan which was towed each weekend into position for observations. From there we graduated to a large beach hut mounted on oil drums and concrete which we shared with Alby's Beach Café and an ice cream kiosk.

In April 1996 we moved into our present home - the recently vacated HM Coastguard lookout on top of Martello tower P.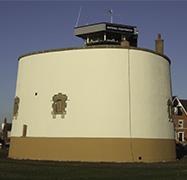 Click here for a short history of NCI Felixstowe
what3words
daredevil.beaks.maple
OS Reference
TM 29275 33081
Nearest Postcode
IP11 2EF